Saginaw's Premier Automotive Repair Service Since 1982
COVID-19 Update:
During this time of crisis, we want you to know that we are keeping our doors open. We are still here to serve our customers. We will continue to help our community as long as we can. Please stay safe.
At Stroebel Automotive we take the guesswork out of automotive repair by paying our technicians to properly diagnose problems and fix them right the first time.  This is why our customers have trusted us with their cars and fleets for over 30 years.  We specialize in top-quality parts and services for foreign and domestic cars. We also carry original equipment quality replacement parts for vehicles made by all leading manufacturers.  Our customers in the Saginaw area benefit from knowing their cars are being maintained properly for maximum service and dependability.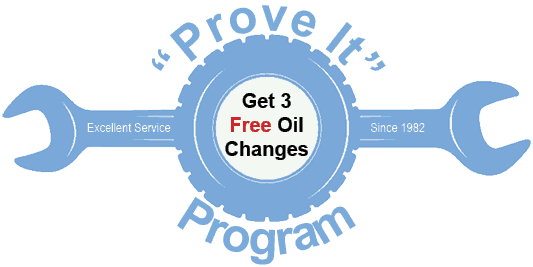 Let Stroebel Automotive keep you safely on the road with our comprehensive services.  Call (989) 781-4307 to make an appointment for our "Prove It Program" and Find Out How to Get Three Oil Changes for FREE, or request an appointment here. Let us prove we can service your car in a way that gets you a more dependable car for less time, money and hassle than if you take your car to the shop only when something goes wrong.
And be sure to sign up for our newsletters with tips for keeping your car fit, and special deals for our subscribers.
Thank you for visiting our website. We look forward to meeting you and making you a happier car or fleet owner, with a more dependable vehicle and fewer repairs because we know how to keep your car in top condition.
For the best auto repair service in the Saginaw area contact Stroebel Automotive today! (989) 781-4307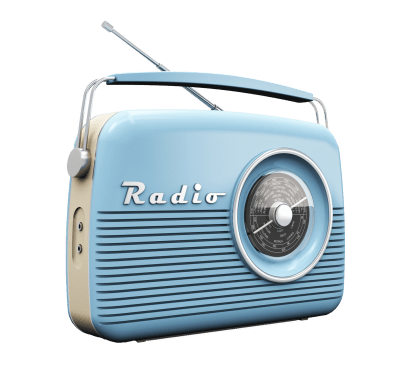 Our "What's Up Doc?" Radio Commercial. Click Play below to listen or pause below to stop.
Stroebel Automotive is an AAA Approved Repair Shop. What's that mean for you? You get the best service available in the Saginaw area to ensure your car is repaired to AAA standards.
Stroebel Automotive is proud to be known as a Green Mechanic. This ensures that we are doing our part to be environmentally conscious and respectful. Here is a list of some of the things we do:
All petroleum products are recycled to heat the building with a waste oil heater. Engine Oil, Brake Fluid, Transmission Fluid, Gear Lubricant, Stale Fuels, Power Steering Fluid. We accept used motor oil and stale fuels. We recycle all used coolant. We work with a battery recycler for lead-acid batteries. We recycle all metals. We have an individual we work with who uses our recycled paper absorbents to generate heat. We have a firm that recycles our oil filters for the metal and the oil/paper medium for heat. We have LED lighting in our facility to reduce electrical usage.
Home of the "Prove It" Program
Now we'd like to prove to you that Stroebel Automotive will take better care of your car than you've experienced before.  That's why we provide the "Prove It Program" for our new customers.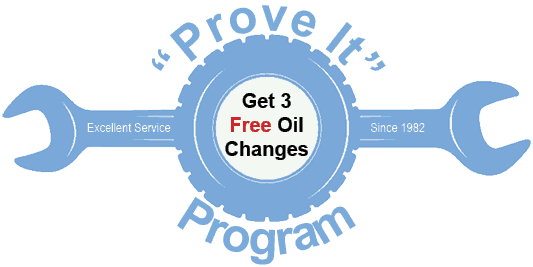 The program is simple but powerful. You bring your car in for a full diagnostic exam, and get three oil changes with factory approved oil for FREE*. Full diagnostic exams cost $75 to $95 depending on your car.  After the exam, you get a detailed report on your car's condition, enabling you to avoid needless repairs.
Call (989) 781-4307 and set up an appointment today, or click on the request an appointment button below. We look forward to making you and your car happier at Stroebel Automotive.
Request Appointment
*Up to six quarts manufacturer approved oil per oil change. Diesels excluded.
Keep your student drivers Safe! We perform safety Inspections for student cars.
Make an appointment today so we can make sure your student drivers are safe on the road. Call (989) 781-4307
WHY CHOOSE US?
Stroebel Automotive has been in business since 1982 because we know how to take care of customers and their cars.  Our customers don't come to us year after year because we are the cheapest repair shop in town.  They come because they know their car is happier and drives better when we take care of it, which costs them less in the long run. Come and see why we are the best auto repair shop in Saginaw today.
Following are comments from our customers for why they chose us:
Professional and Helpful
Best Job at Great Prices
Top Notch Customer Service
Service Can't be Beat
Expert Knowledge and Honesty
Keeps Cars Running Longer
Less Expensive in the Long Run
"Wanted to say THANK YOU for taking care of us when our van's radiator went bad when we were on our vacation trying to go home, you folks were very kind in taking care of us, and got us fixed faster than expected, the kindness you showed was outstanding, cannot say thank you enough, we got home safely thanks to you folks fixing our van."


Dear Dale, Brandy, and Ben;
I really appreciate the removal Ben did of the spare tire from underneath my 2008 Uplander.  I can now use my spare in case I have a flat. I would have been in a real mess if I would have ever had a flat out on a highway somewhere, and my spare refusing to release from under the van. Thanks again Ben.
If more people would take a look at under the mini vans spare tire periodically, there would be an awfully lot of folks shocked at how rusty and corroded their spare and the underbody carrier mechanism is, particularly here in Michigan. (more…)
I brought my vehicle to Stroebel's under emergency circumstances and after a quick thorough diagnosis found I only needed a new battery. Dale did point out that I would need a coolant system flush in the near future which I scheduled for the next week. Dale and Brandy were not only professional and helpful but also a pleasure to work with. I won't hesitate to recommend this business to all my family and friends. Thank you both so much.
Dale and his staff provide top-notch customer service as well as competent and thorough mechanical services, all at a reasonable price. How good are they? I drive from the Flint area to Saginaw to visit Stroebel Automotive. I would not hesitate to take my Jeep there again in the future (and with the way I treat mine, I am sure we will see him again). Make sure to see Dale for your specialized 4×4 needs too.Thanks again Dale!
Dale has been servicing all my vehicles for the past few years. I can trust Dale to do he best job and at great prices. I would not go anywhere else.
I would not take my car anywhere else, the service here can't be beat. I don't refer people to places I don't trust so sending them here is no problem. Only place I will take any of my cars.
When I first took my car to Dale I was prepared for the answer I had received from many other auto mechanics. They all agreed I should sell the car; there was no answer to my problem. When I explained it to Dale he knew right away what was causing the problem and had it fixed that same day! Dale's knowledge and honesty supersedes all the rest!