(Image Source: https://www.forbes.com/wheels/features/2021-ford-f-150-hybrid-pro-power-generator-explained/)
The look and feel of the 2021 Ford F-150 Hybrid combine to give you a heavy-duty workhouse that catches the eye while carrying the load you need. It's time to get excited. This Hybrid engine (10-speed SelectShift® Hybrid transmission) includes the ability to tow at least 12,000 pounds while carrying 3,325 pounds. 
The PowerBoost™ hybrid model with multiple aluminum body panels, electrically boosted brakes, and a revised powertrain is 100% assembled in America. 
3.5L PowerBoost™ Full Hybrid V6 engine
1.5 kW-hour battery pack (stored beneath the truck)
35 kW electric motor
Anticipate approx. 700 miles per full tank of gas (source)
While the exterior remains mostly unchanged, the tweaks that you'll notice are in details and stampings. There's a wide selection of grille options, multiple interior upgrades, and their Sync 4 system offers better processing power. You'll love that the exterior lighting is easily activated via Sync as well.
With a 2.4 kW inverter (or optional 7.2 kW) you have Pro Power Onboard™. This offers you an integrated generator in-bed. The capacity of the 2,400 watts offers you about 85-hours of capacity. With the upgradable option to 7,200 watts, there's a 32-hour capacity of use.
How does that measure up?
Estimated Wattage Needed:
Jackhammer – 1,800

 

Circular saw – 1,000-1,200

 

Portable Air compressor – 1,000
Battery charger – 200

 
(Image Source: https://www.forbes.com/wheels/features/2021-ford-f-150-hybrid-pro-power-generator-explained/)
This new offering from Ford is a game-changer. Runs strong, works harder, and is assembled in America. That's a winning combination.
With multiple driver-assist technologies added, you're talking about safety measures that will make a difference. You'll also find the Ford Co-Pilot360™ 2.0 integrated into the new F-150 models.
The 2021 Ford F-150 Hybrid has people talking, and we can see why. With technology racing steadily along, Ford is leading the way with a fan favorite that offers the look and feel of a truck they love. The future is here, and Ford's 2021 F-150 Hybrid is the talk of the town. It's winning great press, and people over.
The hybrid model will run approximately $2,500 over the cost of the standard editions.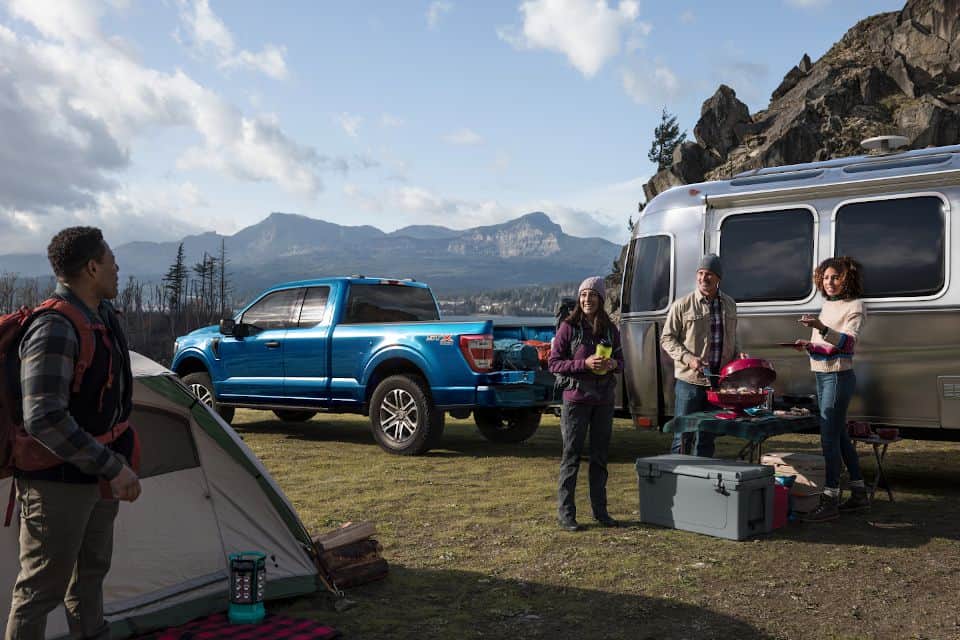 (Image Source: https://www.forbes.com/wheels/features/2021-ford-f-150-hybrid-pro-power-generator-explained/)